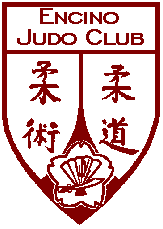 About the Encino Judo Club
The Encino Judo Club was founded 40 years ago dedicated to promoting the sport of Judo and the art of jujutsu. We have taught thousands of students at dozens of locations throughout Southern California. Self-defense and Judo programs have been carefully designed for all interests. Expert instructors combine ancient martial arts techniques with modern teaching methods to ensure a fun and safe learning environment.
Our members have included national and world champions, world-class coaches, and national referees. We regularly host Judo tournaments, self defense seminars, special clinics, demonstrations and certification courses offering a full range of opportunities for both beginners and advanced. The Encino Judo Club is a member club of USJA, USJF, and Nanka Yudanshakai. We also have been very involved in a program for the visually impaired in cooperation with the Braille Institute of America.
See photos of our classes, or learn about Judo at the Judo Information Site. To order Judo t-shirts and gifts please see the Encino Judo Club products.
Our Instructors

Instructor Neil Ohlenkamp being thrown skillfully by Rhett Smith, 10
Neil Ohlenkamp, 7th degree black belt -- Head Instructor
Jurgen Wahl, 5th degree black belt -- Founder
Ludovic Hilde, 2nd degree black belt -- Instructor at Oxnard Buddhist Temple
Mark Herrschaft, 1st degree black belt -- Instructor at Camarillo YMCA
Bill Gaffney, 4th degree black belt, Alain Wilkinson, 3rd degree black belt, Jerrod Wilson and Gene Demachi, 1st degree black belt
Many of the other black belt members of the Encino Judo Club assist in coaching and special events
Class Schedule
These classes are subject to change. Please check our online calendar, call the phone numbers shown below, or send email to one of the instructors for more information.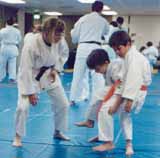 Personalized instruction from instructor Eileen Hagen
Oxnard Buddhist Temple serving Oxnard, Ventura, Ojai, and Port Hueneme at 250 South H Street (the corner of H and 2nd) in Oxnard, California. Phone: (805) 259-6699 -- Tuesdays from 6:30 to 8pm, and Fridays from 7 to 8:30pm ($30/month)
Camarillo Family YMCA 3111 Village at the Park Drive, Camarillo, California. Phone: (805) 484-0423. Mondays and Thursdays from 6 to 7pm
Other Events of the Encino Judo Club
Please check our online calendar for upcoming events. You can subscribe for updates.
In May 2011 we flew in two special guests from France for a clinic -- The Weekend of French Judo. In March 2008 the Encino Judo Club hosted a clinic with Jin Iizumi and Gary Goltz. In December 2007 the Encino Judo club hosted a newaza clinic with Harold Sharp and Toshikazo Okada. In October 2006 the Encino Judo Club hosted a clinic with former World Champion AnnMaria DeMars where she showed some judo games and techniques like her favorite armlock. This was followed by a club tournament. Here are some photos and video of a USJA Grassroots Clinic conducted by Neil Ohlenkamp in August 2006.
| | |
| --- | --- |
| Encino Judo Club instructors Alain Wilkinson (front left) and Eileen Hagen (front right) with Ichiro Abe, 10th degree black belt, and two other Kodokan instructors after a Kata clinic | The first promotions at the Encino Judo Club class at the Camarillo YMCA led by Mark Herrschaft (May 2007) |
We now offer official Encino Judo Club t-shirts, sweatshirts and other merchandise. We regularly host tournaments, clinics, demonstrations, and classes. Here's a video of our club tournament held in Oxnard in June 2005. Here is a photo from the Ventura County Star showing the Judo demonstration at the 2006 Oxnard Buddhist Temple Obon Festival. The photo below shows a big ura nage throw during the 2005 demonstration at the Obon Festival.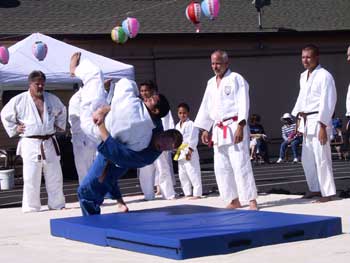 Judo class at Oxnard Buddhist Temple on May 10, 2005.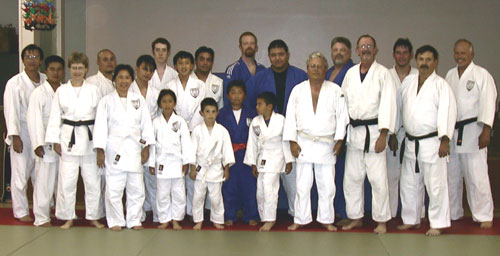 Goodwill Practice with Japanese Self Defense Forces June 30, 2005.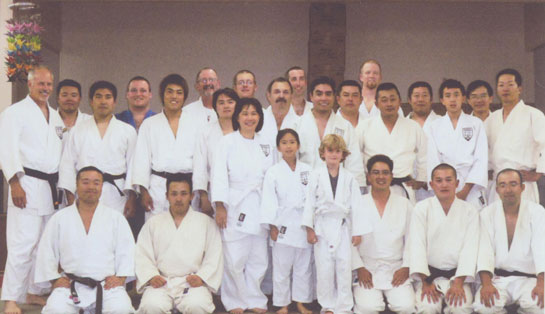 This photo (below) shows some of the instructors at an Encino Judo Club clinic almost 20 years ago including (from left to right) Harold Sharp (8 dan), "Judo" Gene Lebell (8 dan), Phil Porter (9 dan), Toney Raven (7 dan), Bill Nauta (6 dan), and Neil Ohlenkamp (6 dan).